Building D – 1 Bedroom
Building D offers two similar floor plans for the one bedroom, one bathroom apartments.
These units feature a spacious floor plan of 633-641 square feet with an abundance of natural light, private decks with exterior storage closets, and air conditioning. The kitchens come equipped with a range, refrigerator, dishwasher, microwave, stainless steel sink, and garbage disposals. A dining area is located adjacent to a large living room. The air conditioner is mounted in the wall of the living room adjacent to the patio door. The washer and dryer are located within a closet next to the water heater.
There are a few differences between the two floor plans. The north facing units feature a bar that easily seats two, a bedroom window overlooking the patio, and a coat closet just inside the entry. The south facing units are just a few square feet smaller but feature a linen closet in the bathroom and the laundry closet plus a coat closet in the short hallway just outside the bathroom.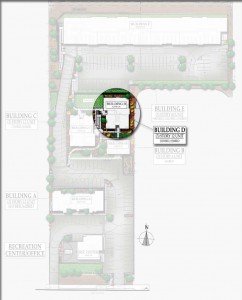 Similar Floor plans